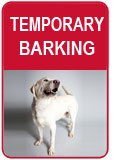 The Barking Lot finds its recruits in a number of places and ways. We rescue them from high kill shelters and humane societies — from Los Angeles all the way down and into Mexico. More often than not, the dogs we rescue were already scheduled to be euthanized. The Barking Lot is their last chance at finding a forever home.
So choosing one of our 'Temporary Barkers' not only means choosing to provide a good home and love to a deserving animal…it means supporting The Barking Lot in its efforts to continue saving these wonderful canine creatures. So for that, we thank you. And your new best friend thanks you, too.
View all of our Temporary Barkers on Petfinder: https://www.petfinder.com/pet-search?shelter_id=CA1356
To start the adoption process, please complete our Adoption Application. If you have questions about the process, please visit our Adoption FAQ page.