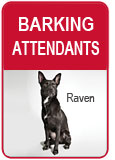 If you love dogs and want to feel great knowing you are helping to save lives, volunteer with us.
There are all kinds of ways to get involved at The Barking Lot. Please click on the appropriate form based on your interest, skill and time available. If you think you can help but don't see a specific area that applies to you, email us!
Foster Parents
Foster parents are the determining factor in our ability to save lives.  Our recruits need "Temporary Barking" while we find them "Permanent Barking." To apply to become a foster parent, visit our Foster A Dog page and fill out the Foster Application.
General Barking Attendants
Volunteer Application
Check out some of the opportunities below.
Valet Barkers – are responsible for exercising our recruits around the vicinity of our facility and playing with them in the yards. Your assistance helps the dogs learn good leash manners and gain more experience with more people.
Office Volunteer – This entails scanning and data entry for our documents, information going to micro chip companies, and such. Office volunteers also get plenty of time with dogs, the office dogs tend to become best buds with you. This requires 4-6 hours each week, on a weekday.
Transporters – We rescue pups from all over Southern California and must arrange travel for each pooch in order to get them to our facility. To do this, we coordinate transportation by either arranging "legs" with several transporters (for longer treks) or having one person drive round trip. Transporting requires a valid driver's license and a chunk of time as it can take anywhere from 1-6 hours depending on the distance and traffic congestion. Transporting is very rewarding as you get to be the first contact the new "Temporary Barker" has on his/her journey to a "Permanent Barking" space!
Home Checkers – responsible for surveying a potential adopter's home to determine the suitability for a given pooch. This requires a critical eye for the safety and enjoyment of both pup and potential adopter. We supply you with the guidelines to execute each home check smoothly, which takes approximately 20-30 minutes.
Barking Space Attendants – Responsible for keeping the facility clean and sanitized for our pups. In addition to cleaning kennels, these volunteers will help with feeding, bathing, laundry, and the like.
Data Entry – responsible for accurately transferring information into our database.
Event Barkers – The Barking Lot is nothing if not social! We host many events during the course of the year: fundraisers, adoption drives, raising awareness functions, and to have fun. Responsibilities can range from selling raffle tickets, handling dogs, screening applications, manning the booth, etc. Events are throughout the year and typically require anywhere from 3-6 hours of your time. This position is available after you've volunteered at the facility for awhile.
Puppy Duty – responsible for the cleaning the puppy kennels, and playing with the little adorable rascals afterwards. There are specialized protocols to do this job in order to keep the puppy area clean and the puppies healthy. Careful attention to detail is a must for this task. This position is available after you've volunteered at the facility for awhile.
Writers – For newsletter articles, press releases, puppy profiles, and social media content, we can always use the talents of another good writer.
Please note, we do support volunteers who need to meet community service requirements of 50 hours or more, and will consider other community service requirements on a case-by-case basis.
Volunteers need to be at least 18 years old.
Volunteers first attend a 45 minute orientation to get an overview of us and the needs of our program in El Cajon.  Shortly after the orientation day, we will schedule a 3 hour "shadow shift" in which new volunteers work alongside a seasoned volunteer. We encourage volunteers to commit to a 3-hour shift at least every other week for a minimum of 6 months.
Breaking News!

This message is only visible to admins.
Problem displaying Facebook posts.
Click to show error
Error: Server configuration issue
Like us on Facebook for the latest news from
The Barking Lot
!