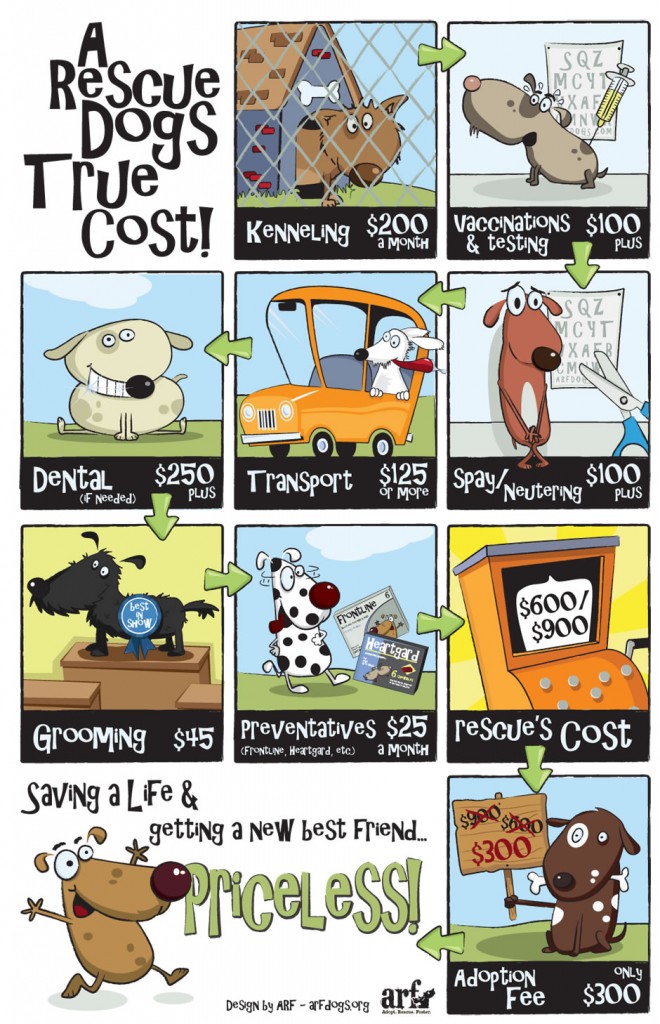 If you can't put a price tag on love, than you certainly can't put a price tag on a dog. From a business perspective, though, it costs a large chunk of change to operate a private rescue facility. The cartoon gives a cute overview, but fails to mention at least 25 other items a rescue must pay for….food (how did the cartoonist forget food!), microchips, collars, pooper scoopers, bowls…you get the idea. Items you won't find on The Barking Lot's list of expenses are salaries and health insurance; we are all volunteers so your money directly helps the dogs in our care.
Keep in mind, too, a private rescue doesn't get any tax subsidies like your local county shelter. Nor does a private group have a veterinarian on staff like the county, so all medical services must be purchased. The charges add up quickly. Without
adoption fees to help offset these costs, private rescues couldn't continue to save dogs from death row at the county shelters.
So, from all the volunteers and dogs at The Barking Lot – thank you for considering adoption! Not only will you be providing a "permanent barking spot" for the pup you take home, your adoption fee will help us save another life.
Thanks to A.R.F for the graphic!