The holidays can be a great time to bring a new dog into the house. Many people have relaxed work schedules, the kids are on break … all this extra time at home is perfect to introduce a new furry family member. Many families see this, and in the gift-giving season they want to surprise spouses or children with a new dog or puppy. Come March, too many of those Christmas puppies find themselves in the shelter because their families rushed into bringing home a dog. While we strongly discourage families or individuals from surprising one another with the gift of dog ownership, there are ways to bring a happy holiday addition to your home in a more responsible way.
Did you know…
Pets acquired from friends were relinquished in higher numbers (31.4% of dogs; 33.2% of cats) than from any other source. National Council on Pet Population Study and Policy (NCPPSP)
About 50% of animals in the shelter have been relinquished by their owners. (ASPCA)
In order to increase the chances of every adoption being a successful one, The Barking Lot requires all members of the household (including any current dogs) to meet your potential dog. This helps our team of experienced adoption counselors recommend dogs that would work better for your situation, be it children, first time dog owners or experienced adopters looking for a companion for your current pooch. Consider us your personal doggie matchmakers!
Another part of our process is a home check. Home checks give you an opportunity to ask us any additional questions you may have about bringing a new dog home, and we're happy to make suggestions about puppy proofing, the first few weeks, or helping multi-dog households integrate smoothly.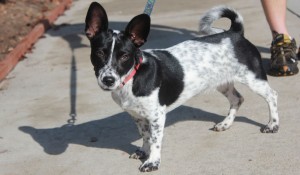 Now that you know our rationale, you may be thinking that surprising your kids with a Barking Lot puppy for Christmas just isn't possible. While we won't be able to send you home with a pup to put under the tree, we can do our best to help your surprise be just that. How? Surprise them with a trip out to our facility to meet your best match! We can often do our home inspections at discrete time prior to your appointment to meet dogs, and we find that kids enjoy the responsibility of helping the family make such a big decision.
Ready to responsibly welcome a new member of the family this holiday season? Check out all our available puppies below, and all our dogs on our available dogs page!
Fill out an application to get started!
Adoption Application