Please adopt Miele.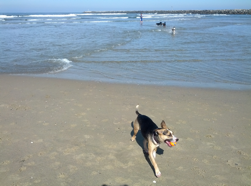 I have been her foster twice now for a total of about 6 months and she is a sweet, fun, loving and energetic puppy.  She loves to play outside, go to the park or the beach and her favorite thing ever is chasing a ball (she is getting better at letting go of it, but it is still a work in progress!).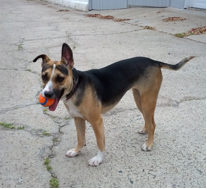 She is a mix of Jack Russell Terrier and Beagle with maybe some German Shepherd thrown in and she is very cute with one ear that flops down.  She does have a lot of energy and can't wait to play when you get home.  She enjoys sitting outside in the sun, on her bed or by the front door watching people go by.  She is great in the house and has not had an accident since I have had her the second time (about 4 months).  She rarely barks, doesn't chew things she is not supposed to and only gets up on the couch when I let her.  She is a pretty good cuddler and she likes to stretch out on the couch or nestle herself next to you.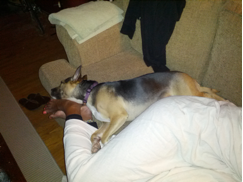 She does well on a leash and I have been working with her to walk next to me.  She does get excited still when she sees other dogs, but she is friendly and listens to commands when it is time to move on.  I occasionally walk her without a leash and I have taken her hiking off leash and have not had any issues with her.  She is still young, about 20 months old I think, and she has grown to her full size (about 35-40 lbs), so she is a medium size dog.   She is a great dog and I have enjoyed the time I have spent with her, but since I am moving over seas I can't continue to keep her.  I hope that we can find a permanent home home for her with a family that will love and appreciate her.